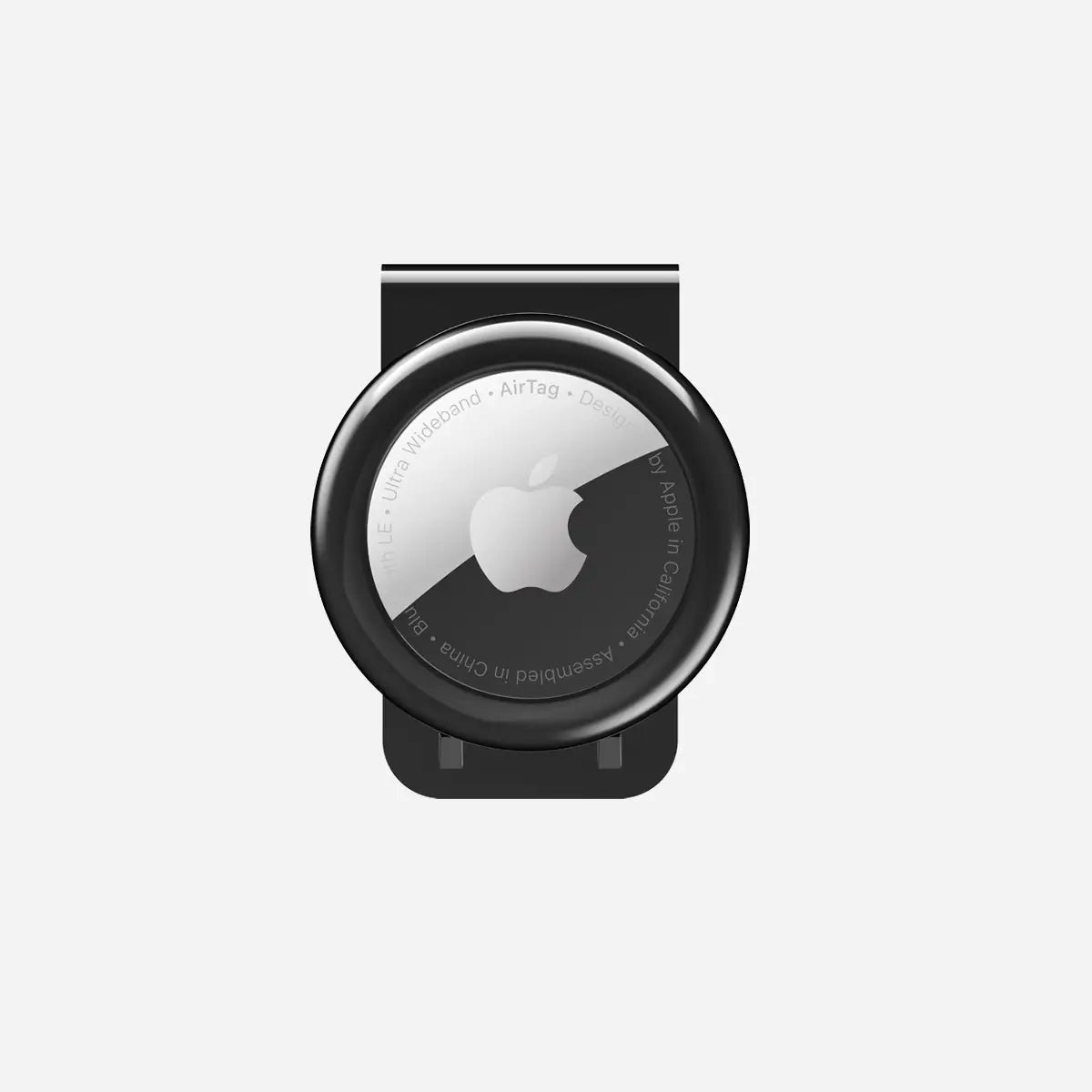 AirTag Wallet Bundle - Damascus Gold
---
Axwell Wallet:
• Holds 1-12 cards + bills
• Blocks RFID theft
• Ultra-slim, lightweight design
• Money clip and cash strap included
• Mag-Lock™ cover plates
• Tear-Stop™ elastic track
• 304 stainless steel | PVD coated
• Donation to homeless veterans
• Lifetime warranty
• Weight: 5.0 oz | 86 x 54 x 8 mm

AirTag Money Clip:
• Durable, lightweight design
• Clips to Axwell Wallet cover plates
• Compatible with Apple AirTag
• 304 stainless steel
• Weight: 0.75 oz | 45 x 35 x 15 mm
Introducing the ultimate bundle for anyone who wants to upgrade their everyday carry. Our exclusive bundle includes the best-selling Axwell Wallet and the AirTag Money Clip, which together create the AirTag Wallet. With this bundle, you can enjoy the convenience of having your wallet and essentials organized in one place, while also adding the enhanced intelligence of the Apple AirTag to ensure you never lose it.

What's included - Axwell Wallet, AirTag Money Clip, cash strap, money clip.

* Apple AirTag not included.
Shipping

Free shipping on USA & Canada orders $50+

Free shipping on international orders $150+

View more details >

Warranty

Wallets - Lifetime warranty

Accessories - One (1) year warranty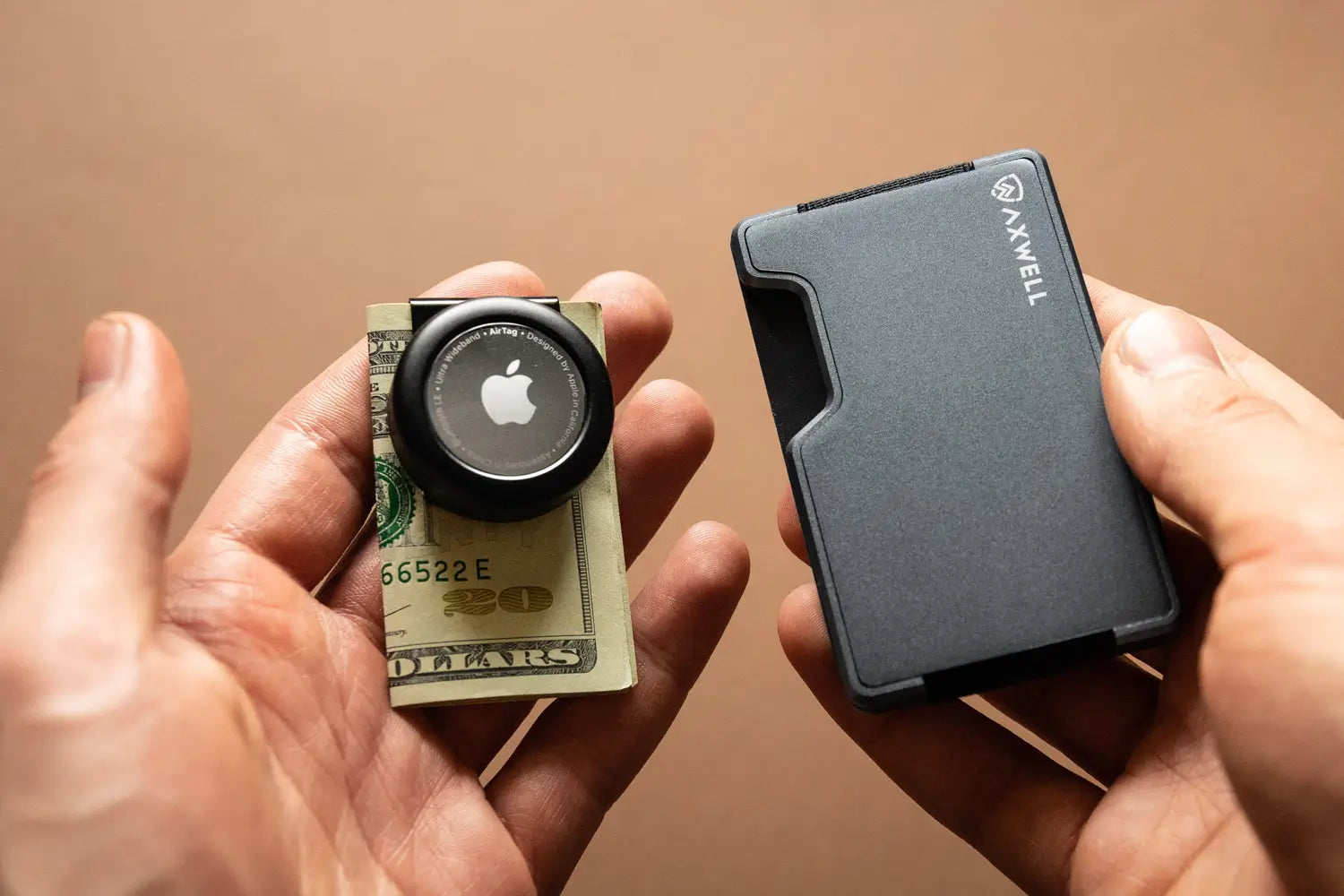 Bundle & Save.
Get the ultimate everyday carry solution with the AirTag Wallet offer. This value package includes our top-selling Axwell Wallet and AirTag Money Clip, providing everything you need to stay organized and simplify your everyday carry. Enjoy peace of mind knowing your essentials are always at your fingertips.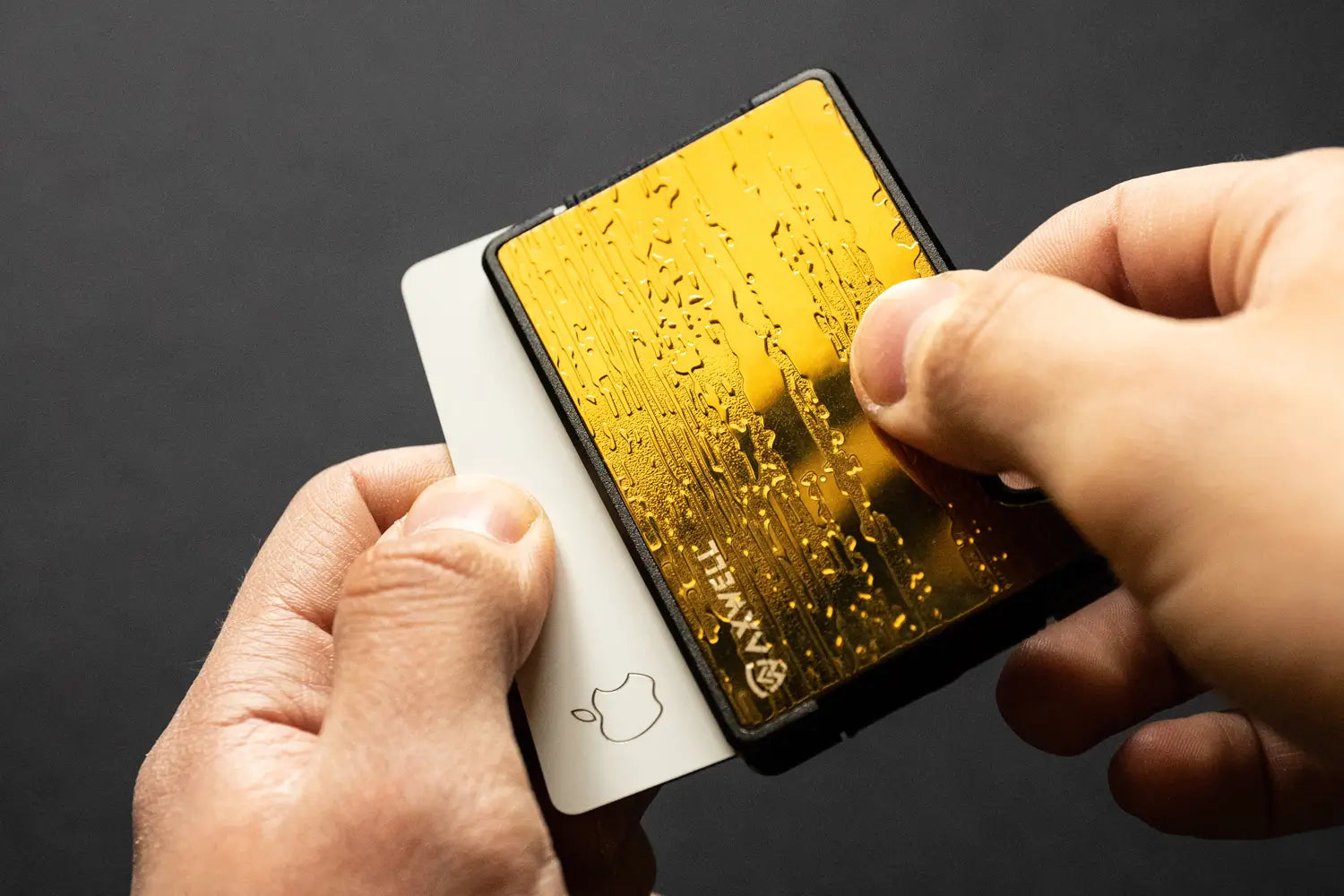 Axwell Wallet.
Experience the pinnacle of security and durability with the Axwell Wallet. Crafted from military-grade materials, this wallet provides unparalleled protection against RFID theft, safeguarding your personal information. Built to last, the wallet is expertly crafted to withstand the test of time, ensuring that you'll never have to purchase another wallet again.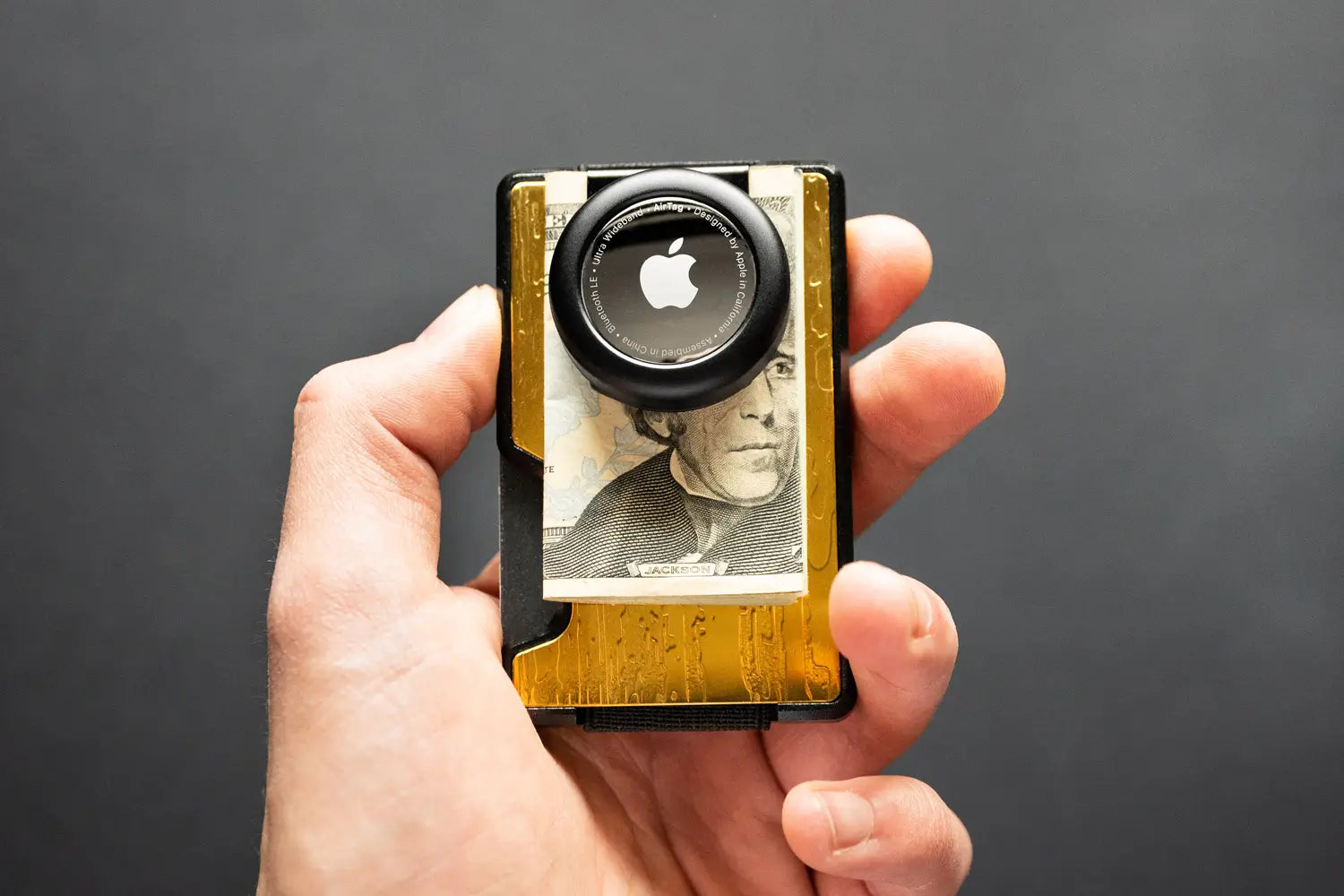 AirTag Money Clip.
The AirTag Money Clip is a stylish and practical accessory made of premium-quality stainless steel. It can be attached to the front or back of the Axwell Wallet, utilizing the Find My network to help you locate your wallet with ease. Its modular design can be used alone or clipped to your wallet for a convenient way to keep your essentials organized.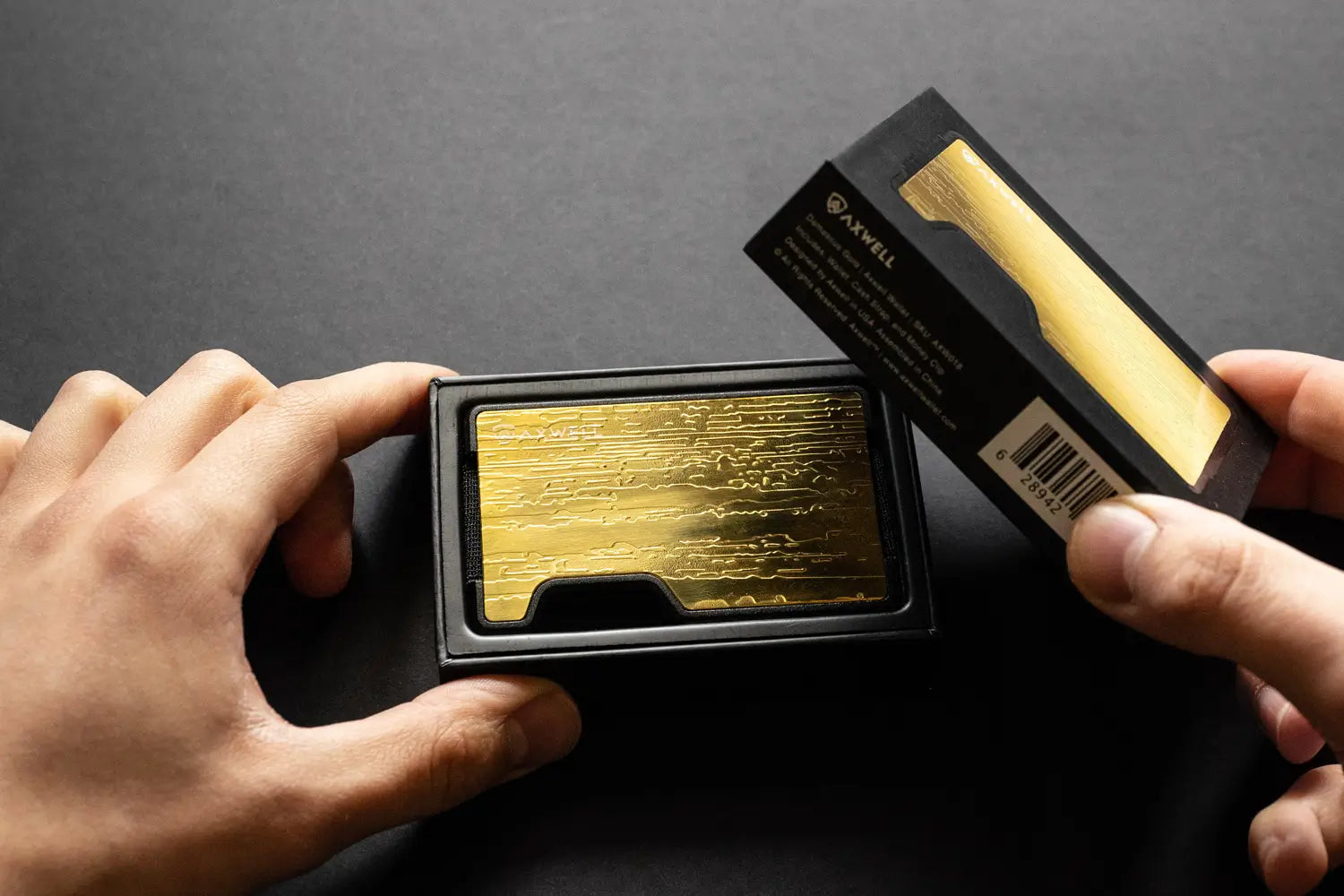 Lifetime Warranty.
Invest in your future with the Axwell Wallet - a purchase that will last a lifetime. Say goodbye to constantly replacing your wallet every few months or year and instead invest in a product that will bring you peace of mind for years to come. Trust us - your future self will thank you.
Accessories
Shop our best selling everyday carry accessories.
This product is rated 4.9 of 5.0 stars.
It has received 955 reviews.
Axwell did fix Elastic issues
Bought gummetal version not impress with color or weight, I previously had forged carbon fiber wallet fell apart, Issues Elastic , I should've bought Black Damascus, I really liked Forge color this had several issues , I would say if have money go with Black Damascus, Quality of gum-mental excellent this wasn't for me.
Best EDC Wallet
I own 2 Axwell Wallets and I have gifted another 2. I own a few other well known brands but they are nowhere near the quality and build of Axwell.
Fantastic
Love the feel,look and texture of the copper wallet.It feels like a nice chunk of copper was used to make the wallet rather than a thin piece of copper.That being said its heavy but i like it because it just feels right in the hands.Most of all i like the easy access to open and close my bank cards.Compared to the Ridge wallet i prefer the Axwell wallet for easy access.In my opinion Awell have solved the problems that still exist with the Ridge wallet.I havnt got to use the multi tool as of yet but its definitely a great addition and fits nice and snug in the wallet The price point of the Axwell wallet is also very well priced.10/10 from me for the Axwell copper wallet.
Wallet SE
It is a gift for my son. It's just perfect. The ordering was so easy and was delivered as promised. Very happy with my experience with Axwell. Will order again. Thank you
Armor wallet
I love it for the most part. The only complaint is the difficulty of card removal. It's hard to get just a couple out. They all want to pop up and it's hard to get ahold of the one you need. So I've had to just pull them all out and grab the right one the put them all back in. Not terrible, but a pain when in a hurry