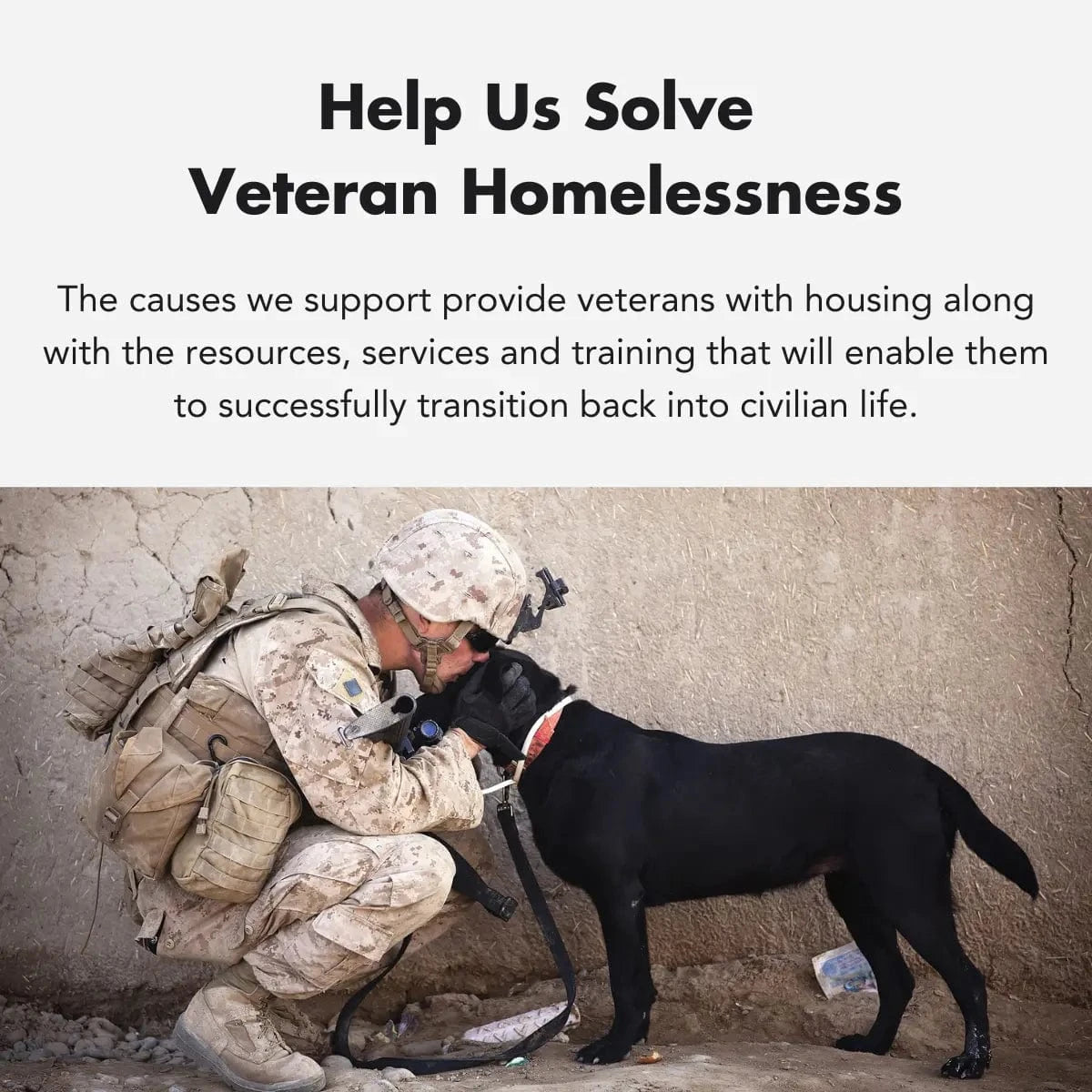 Ultimate Bundle - Blaze Orange
---

Save 55% off the Ultimate Bundle:
• Aluminum Axwell Wallet - $90 value
• Key Organizer - $50 value
• Chipolo Tracker Bundle - $50 value
• Bottle Opener - $45 value
• Multitool Card - $25 value
• Coin Tray - $20 value
Elevate your everyday carry with the Axwell Ultimate Bundle, a curated collection of best-sellers designed for daily convenience. Highlighted by the Axwell Aluminum Wallet made from aerospace-grade aluminum, it offers RFID-blocking and innovative Mag-Lock™ technology for customizable style. The bundle also includes versatile tools like the KeyTool, Chipolo Tracker, Battle Axe Bottle Opener, Mission Multitool Card, and a Coin Tray. The Axwell Ultimate Bundle seamlessly blends style with practicality.


What's included - Axwell Wallet, KeyTool, Chipolo Tracker, Battle Axe Bottle Opener, Mission Multitool Card, and Coin Tray. 
Shipping

Free shipping on USA & Canada orders $50+

Free shipping on international orders $150+

View more details >

Warranty

Wallets - Lifetime warranty

Accessories - One (1) year warranty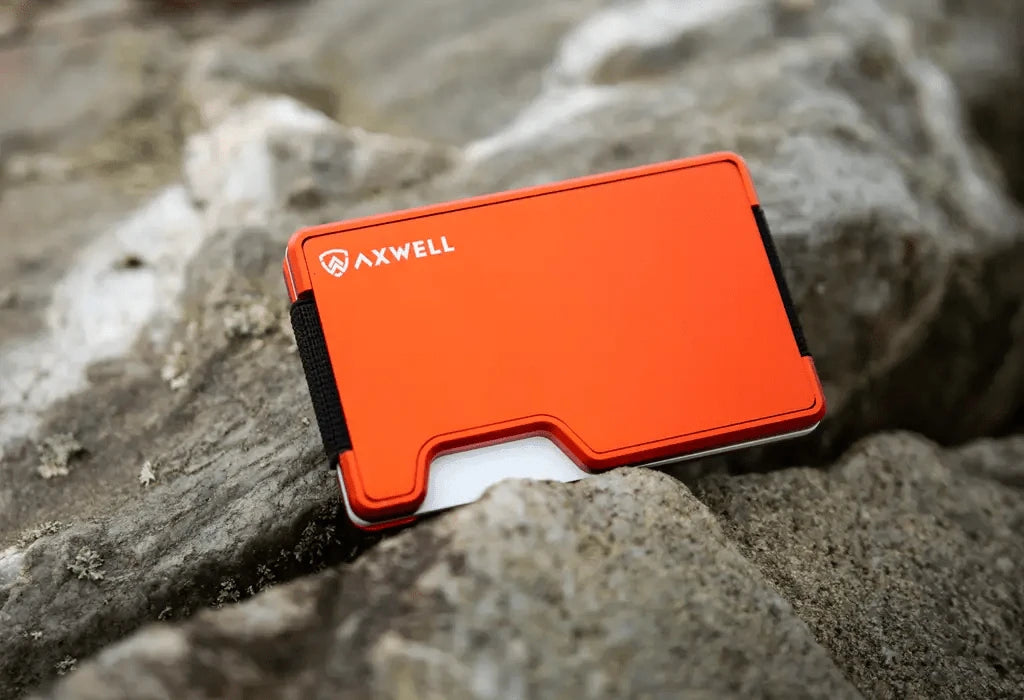 Axwell Wallet.
Experience the pinnacle of security and durability with the Axwell Wallet. Crafted from military-grade materials, this wallet provides unparalleled protection against RFID theft, safeguarding your personal information. Built to last, the wallet is expertly crafted to withstand the test of time, ensuring that you'll never have to purchase another wallet again.
KeyTool.
The KeyTool is a compact and versatile tool designed to keep your keys organized and easily accessible. It can hold 3-7 standard keys and has a slim, lightweight design that is comfortable to carry. With its durable 6061-T6 aluminum construction and secure locking mechanism, the KeyTool is an essential tool for anyone looking to streamline their everyday carry.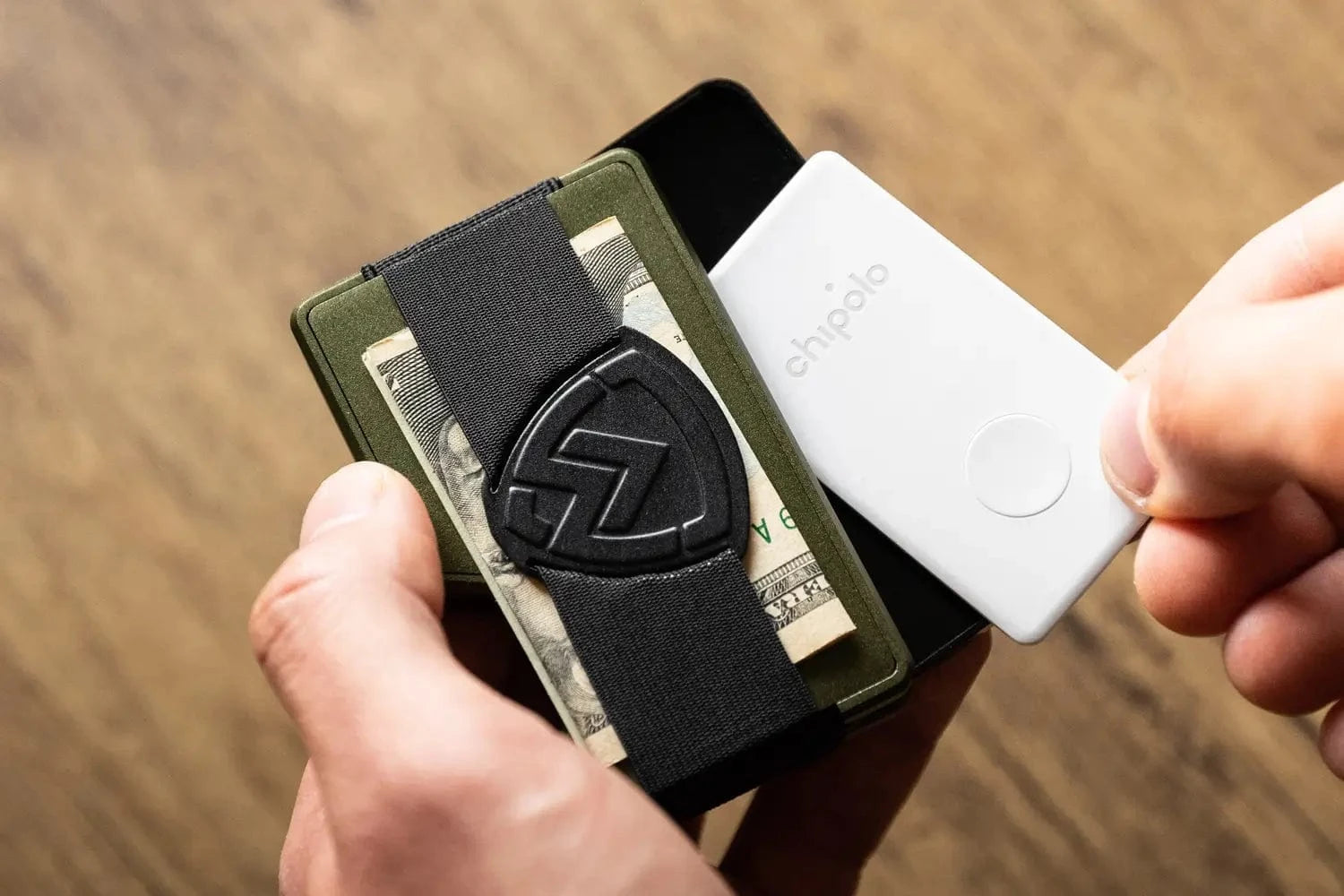 Chipolo Tracker.
The Chipolo Tracker is the perfect solution for anyone who wants to keep their wallet safe and secure. With the Chipolo Card you can easily track your wallet and other small valuables using the Chipolo app. The bundle is lightweight, easy to use, and designed to help you keep track of your essentials on the go.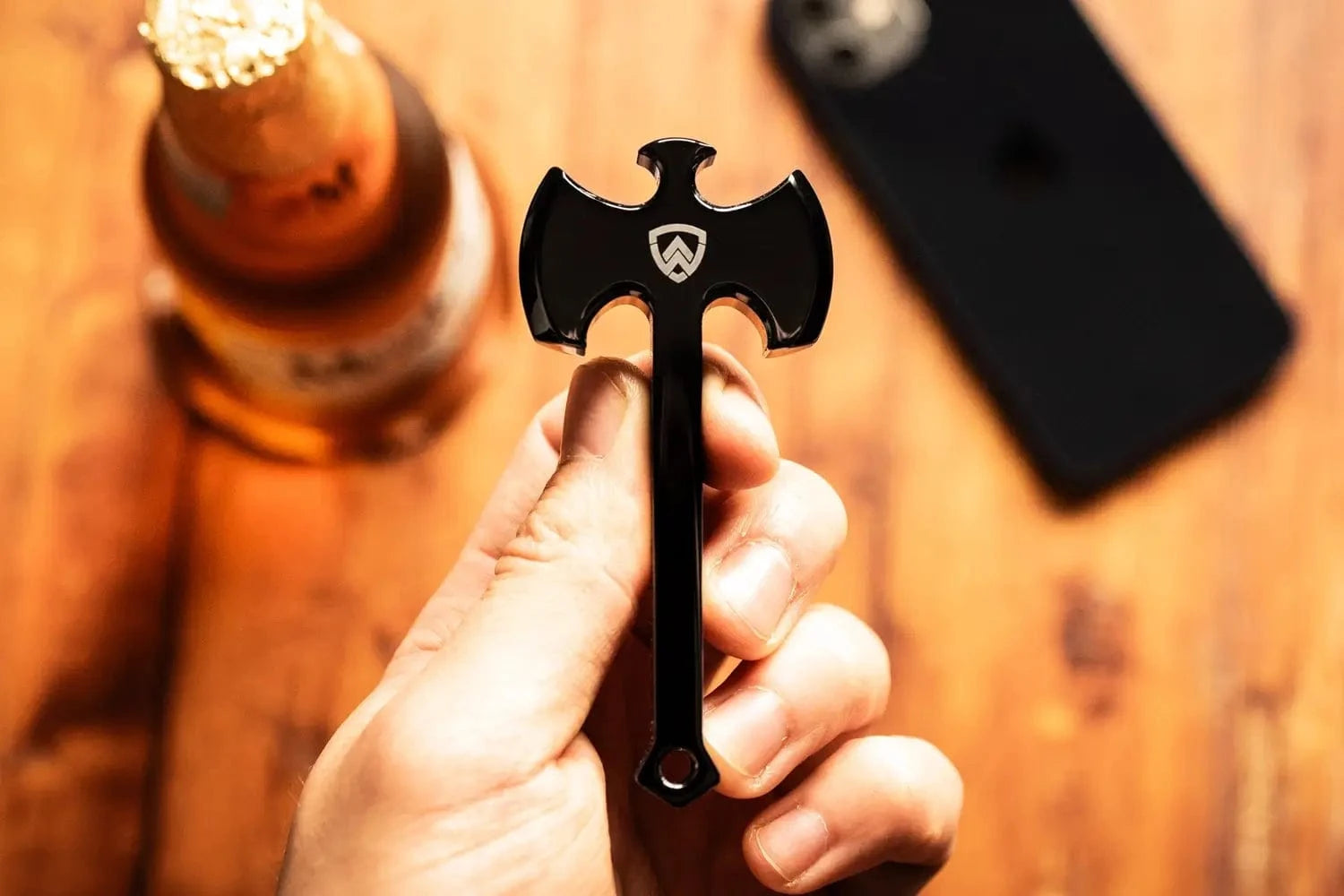 Bottle Opener.
The Battle Axe Bottle Opener is a unique and stylish tool that opens bottles with ease. Made of 6061-T6 aluminum and precision machined, it has a solid and sturdy feel with a PVD black chrome finish that looks sleek and also helps prevent scratching. Its axe-shaped design not only makes it a functional tool, but also a fun and stylish accessory for your kitchen, bar, or everyday carry collection.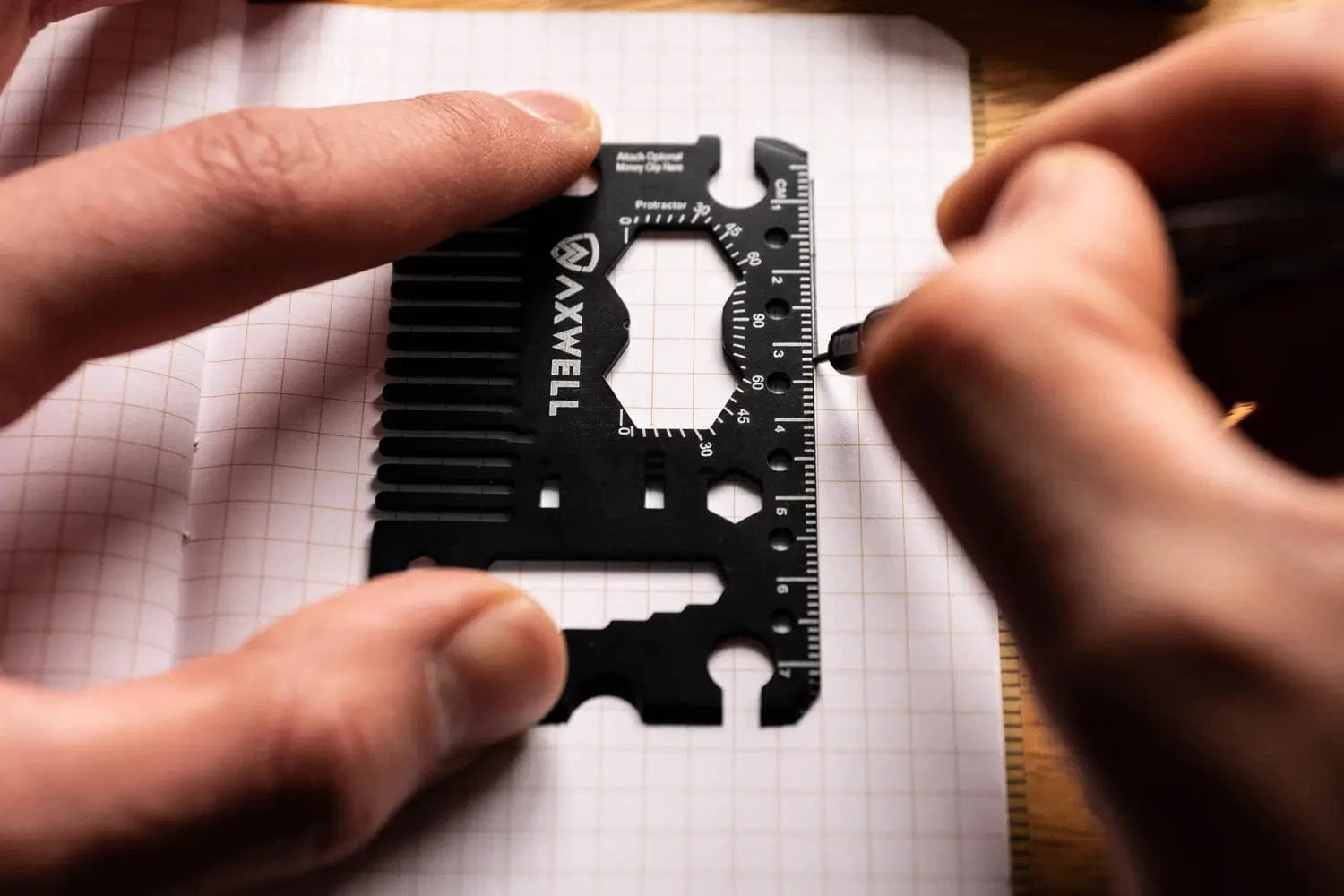 Multitool Card.
The Mission Multitool Card is a compact and versatile tool that fits perfectly in your wallet. It includes 23 everyday tools such as a bottle opener, screwdrivers, and more. Made from durable 304 stainless steel, it's built to last and perfect for everyday carry.
Coin Tray.
Keep your essentials organized and easily accessible with our slim and lightweight coin tray that fits perfectly inside your Axwell Wallet. Not only can you carry coins and cash, but also keys and other small valuables.
Accessories
Shop our best selling everyday carry accessories.
What sets the Axwell Wallet apart from other wallets?

The Axwell Wallet distinguishes itself with its impeccable durability and extensive customization options. Unlike conventional wallets, it's engineered to be a lifelong companion, boasting exceptional toughness and adaptability.
What is the warranty on Axwell Wallets?

We offer a lifetime warranty on all Axwell Wallets. If you encounter any issues, we're here to assist you.
Is the Axwell Wallet RFID-protected?

Yes, all Axwell Wallets feature RFID-blocking technology to safeguard your sensitive card information from electronic theft.
How many cards can an Axwell Wallet hold?

Axwell Wallets are designed to accommodate 1-12 cards. They're built for optimal card capacity without unnecessary bulk.
What materials are Axwell Wallets made from?

Axwell Wallets are crafted from premium materials such as 6061-T6 aluminum, 304 stainless steel, carbon fiber, and copper, ensuring unmatched durability and longevity.
Can I add a cash strap and a money clip to my Axwell Wallet?

Absolutely! Axwell Wallets come with modular features, including a cash strap and money clip, so you can customize your wallet to suit your needs.
Do you offer free shipping to the USA and Canada?

Yes we do! Get free standard shipping on all USA and Canada orders over $50 USD.
Do you offer international shipping?
Can I return my Axwell Wallet?

Yes, our return policy is straightforward: If you don't absolutely love your new product, you can send it back in its original, unused condition within the first 50 days of purchase for a full refund (Outlet items excluded). Your satisfaction is our priority.